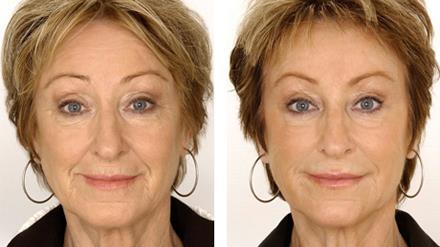 Anti Wrinkle
What does the treatment involve?
Restylane is a crystal clear gel form of hyaluronic acid, a substance that occurs naturally in the body. Hyaluronic acid holds water, hydrating and giving volume to the skin. Use the slider on the Before & After photo below.
What areas can be treated?
Forehead and eyes
Glabella (frown lines)
Brow lift
Gummy smile
Jowl tightening
Jaw muscles for facial slimming
When will I see the benefits?
The product usually takes 2-3 days to start working and the effects can last up to 4 months depending on the strength of your muscles and your individual response to the product.
Are there any side effcts?
Like all medicines Botulinum toxin can cause side effects, although any reactions are generally minimal and temporary. You may find that there can be some slight discomfort as the needle enters the skin and you may have some bruising or bleeding where the needle has been placed.
Very rarely, Botulinum toxin may result in muscle weakness. All other rare, although possible side effects can be found within the patient information leaflet which comes with the product. Please feel free to contact us and we will be happy to give this to you.
If you are concerned or feel you are having a reaction please do not hesitate to contact us or your GP.
What happens on the day
Before the treatment any make up will be removed and the area will be cleansed. We will use a topical anesthetic on the injection sites. The product is placed using a cannula which helps to keep swelling and bruising to a minimum. You should only experience a small amount of discomfort during the treatment. However, if you are sensitive we can use a local anesthetic although in most cases this is not necessary.
The treatment itself can take up to 30 minutes depending on what area is being treated.
Aftercare
After having treatment with Botulinum toxin you are advised to avoid any rubbing of the area and to avoid any beauty treatments e.g. facial massage, Sauna's and extreme temperatures for up to 2 weeks. You will be required to attend a review appointment three weeks post treatment which is when any slight adjustments can be made, if necessary.